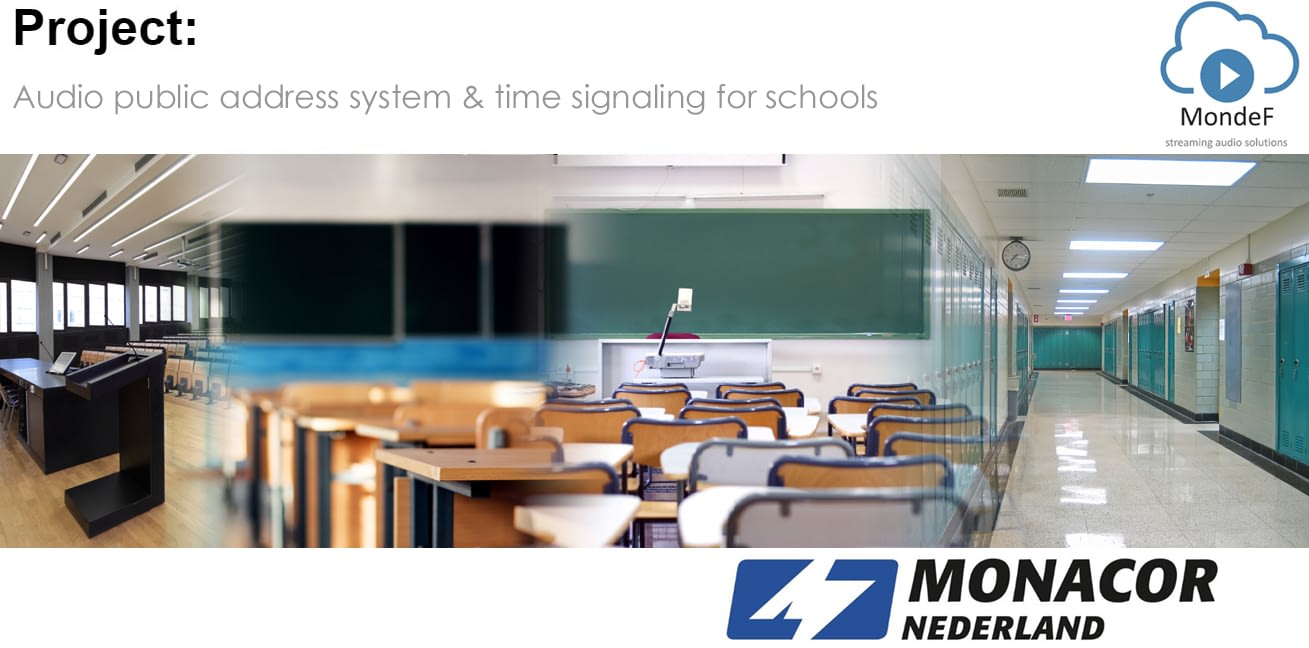 Schools, colleges and universities will always need a public address system to inform staff and students.
A school's audio and public address system is generally designed to convey voice messages quickly and efficiently. This is to send a message to a staff member, a student or student group or to a specific location. But also warning or emergency reports are made via the audio and public address system. The time signaling systems are often installed on separately system.
Traditionally, audio systems have mainly been used in school halls and theaters for meetings and school productions.
But in recent years, public address systems have evolved to transfer information to many independent spaces such as classrooms, wings, corridors, lunch rooms, gymnasium, student workshops, schoolyard or sports fields.
These lacations can also change function, such as the sports hall that can be used temporarily as an exam room.
This also requires a different time signaling schedule.
More than ever before, there is a need for flexible broadcasting and class times signaling systems.
MondeF streaming audio over IP systems combine these different functions with unprecedented ease of use and flexibility in one system with a user-friendly touchscreen interface.
Zones can be freely classified and named. It is even possible to control each room individually, if desired.
Different licenses are available from 1 to 128 zones.
 The timetable can also be set per space/class room or group of rooms, whereby the different timetable times, exam times or parent evening times can be applied.
It is also possible to have the time signal sound adjusted in different rooms, for example five minutes earlier in the teachers' room. The simultaneity of changing rooms can also be influenced in this way, in order to avoid extra crowds in the corridors, in connection with COVID-19 regulations.
MondeF streaming audio over IP + Dante® = flexibility
Monacor brings together the best of both worlds with MondeF. By using the infrastructure and unlimited possibilities of the IT infrastructure, we can offer top quality audio with an unprecedented user experience.
The installation of the MondeF® systems in combination with Dante® audio devices is easy because (existing) standard LAN networks can be used.
Dante® is used by more AV manufacturers than any other audio over IP network technology. All Dante® products are compatible, so that devices from multiple manufacturers can be combined in one network.
It is also possible to integrate existing 100 Volt audio networks.
One cable does it all. Dante® removes the bundles of heavy, expensive analog cabling and replaces it with low-cost, readily available CAT5e, CAT6, or fiber optic cable – just one cable per device – for a simple, lightweight and economical solution. Hundreds of channels through one cable. MondeF integrates media and control for the entire system over a single, standard IP network.
Separate (side) buildings can be added effortlessly, with 1 standard network cable, even at greater distances between buildings.
MondeF systems with Dante® are easily expandable.
Need an extra speaker? Plug it in wherever you want it! Networks can be expanded and reconfigured at any time with just a few clicks of the mouse.
The school in practice
The announcement module:
Some features of the MondeF system as we might encounter:
 Separate ring tones per zone so that the different student groups meet each other as little as possible in the corridors.
A spoken COVID-19 message every 5 minutes in the morning at the entrance.
Ready for exam time schedules or parent evening schedules with 1 click on the MondeF server.
An earlier warning 5 minutes before the lessons start in the teachers' room.
The graphical interface makes programming easy to do.
Multiple radio channels available for teachers' rooms, offices or auditoriums, for example:
Local control panels can be implemented in standard installation material such as JUNG AS500 55x55mm.
This is possible at every zone.
The control panel is also connected with the standard LAN (PoE) network.
At the photo the switches for the sun blinds are combined.
Because all zones are named, it could hardly be clearer. Broadcasting to individual zones is possible. It is possible to create multiple preset groups to start the announcement to those selection zones with 1 push of the button.
Different sizes of touchscreen (10", 12"15"and 19") are available.
The topology of the MondeF system is very clear.
Questions?
Have we aroused your curiosity? We are ready to answer all your questions and are happy to take up the challenge with you to find a state-of-the-art solution.
Monacor, your partner for advice and technical support.
Transportcentrum 3
5835 CT Beugen
Telefoon: 024 – 358 55 55
Email: verkoop@monacor.nl